Business Card Websites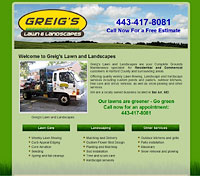 If you plan to develop a full website in the future but have a limited budget right now, single page business card websites are an inexpensive way to establish an internet presence today.
They are designed by a professional web developer and are easy to add to when the time is right.
We include your logo, a photo or two, your contact information, a description of your product and service offerings, and basic SEO.
Business Card package (1 page) – starting at $795.00
Professional, customizable page layout
Website developed using the latest web standards and tested for performance and browser compatibility.
Basic search engine optimization - page titles and meta tags
Basic copywriting (optimize your supplied content for SEO)
Web Hosting Included - 1st year free
Domain name registration (included)
5 email accounts (yourname@yourcompany.com)
Anti-Spam & Anti-Virus Email Scanning
Web-based email capability
*For an additional cost, we can add Flash and slide shows.